Motor Finance Tailored For You!
No deposit required
PCP and HP rates from 7.9%
All credit histories and circumstances considered
We can help find the right car for you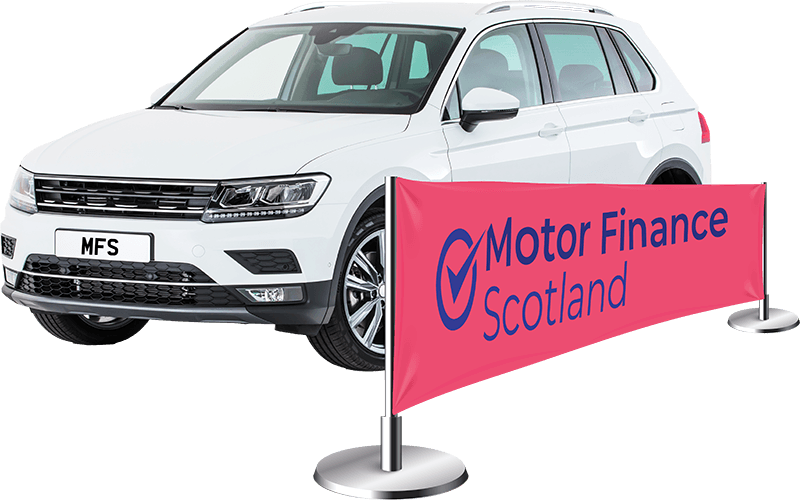 This car finance calculator is for illustration purposes only. The interest rate that you receive from your motor finance provider, or the fees they may charge can vary significantly depending upon your circumstances. If you have a poor or bad credit you are deemed to be a higher risk to the lender, hence the reason for higher monthly payments. Motor Finance Scotland is a finance broker and arranges finance with lenders on our client's behalf. Motor Finance Scotland does not provided loans and cannot directly calculate the exact cost of your loan. This tool is only a rough indicator to help users check potential affordability. Credit is subject to the discretion of the lender, is subject to status and is not guaranteed. Warning: Late repayment can cause you serious money problems. For help go to moneyhelper.org.uk
Representative Example
Annual Interest Rate (fixed) 12.9% p.a., with a representative 12.9% APR, total amount of credit £7,500, deposit of £0, repaying over 47 monthly payments of £198.06 followed by 1 payment of £208.06, total cost of credit is £2006.88*, total amount payable is £9516.88. Motor Finance Scotland Limited is an appointed representative of Creditas Financial Solutions, we are a credit broker and not a lender.
kirsti chalmers
16:23 11 Dec 23
Megan and Claire kept me updated throughout the days of getting me finance on my new car! Top service and a credit to their company. Couldn't thank them more for the help and professional advice they gave.
Jacob Johnson
17:00 17 Nov 23
Claire was so helpful and patient! I couldn't have gotten through the process without hers and Megan's help and sense of humour. Lovely people and good advise.
Stephanie Blanchard-Hall
18:04 16 Nov 23
Brilliant service as usual from all the team at motor finance Scotland, quick,and very efficient ,would highly recommend been using them for quite a while now and every time the service is 110% ,thanks guys
Claire was very polite and professional.She kept me updated throughout the whole process.It was so fast and easy.Would definitely recommend this company to others.
Claire was brilliant, we had such a laugh which made the process much less stressful and she helped me understand everything I needed to know or had questions about. Thank you for making this an easy and pleasant process Claire :)
Kaylin Clark
08:26 17 Oct 23
Really supportive through the process and made sure I was happy with products they offered
Andrew Paterson
15:37 16 Oct 23
Very helpful and understanding. Easy to contact and switch cars. Would definitely recommend and use again when getting a new car in the future
Morven Spence
16:10 12 Oct 23
Amazing first class service highly recommended
Ryan Milne
12:55 29 Sep 23
David Graham
08:54 11 Sep 23
Very easy to deal with ,very patient and helpful if like me you are not good with Tech stuff they talk and guide you through each step .very impressed with the staff here it's aTen out of Ten from me.👍👍
Darren Michie
11:01 08 Sep 23
Fast friendly service. Staff couldn't have been more helpful.
Louise Gillogley
11:51 29 Jul 23
Top notch easy to deal with and understand very mannerly and courteous
colin belshaw
14:43 14 Jul 23
Amazing customer service from everyone I spoke to. Made it a very easy process for me and got a great deal! Extremely happy and would definitely recommend
Michelle Wilson
13:19 05 Jul 23
Friendly, professional & knowledgable. Found the best finance for my budget.
Fiona Rennie
23:01 04 Jul 23
Very helpful company highly recommend
Jamie Clunie
13:14 04 Jul 23
Andrea Scobie
12:21 21 Jun 23
Very competent customer service and a straight forward process
Markus Hiry
16:48 10 Jun 23
Fast , correct and perfect service. Many thanks Megan and Clare .
Nasko Delyanov
23:17 02 Jun 23
Very easy to deal with. Swift and courteous service. Highly recommended
Paul Morgan
16:35 27 Apr 23
Claire and Megan super efficient and quick with the whole process. Highly recommend.
Gail Baxter
12:54 12 Apr 23
Claire got us car finance for a car we liked the service we received was fantastic would definitely recommend them.
William Miller
19:33 31 Mar 23
Very nice and expedient service, got my deal organised in one day - perfect
Alan Martin
13:15 23 Mar 23
Great company very fast and efficient and handled any issues I had very quickly
Scott Black
12:07 01 Mar 23
Great team to work with, extremely helpful throughout the process of finding finance, would recommend anytime.
Cameron Farrance
14:22 15 Feb 23
Was so wonderful dealing with a company that was so nice on the phone and very efficient in dealing with my application 5 stars all the way
Justin Brown
14:23 14 Feb 23
Very helpful very fast all round good 😊
Ricky Clark
11:46 02 Feb 23
Clare and Megan were a pleasure to deal with from the start to the end nothing was a problem very polite and extremely helpful will definetly use them again
Amazing customer experience from start to finish! Thanks again! So quick and easy!Even sorted out my finance after closing time to make sure it was in place!
John Haston
20:46 06 Jan 23
Great service, Claire & Chris were super helpful. A very quick turnaround with no fuss.
Jamie Hammond
13:08 04 Jan 23
Hi I would like to highly recommend the service provided from motor finance Scotland in particular service agent clare I struggle a bit with tec but clare talked me through every step and I feel she really went beyond the call of duty I would like to say a really big thank you to you all
John Davie
21:32 01 Dec 22
Wasn't sure how this would go but delighted with the service provided. Very knowledgeable, helpful and friendly staff. Made this experience smooth, fast and enjoyable.
Alistair Milne
14:57 02 Nov 22
Andy Roberts at Motor Finance Scotland was as always, friendly, transparent and quick in arranging my new financing arrangement. Claire Smith, who dealt with the administrative side of the deal was very helpful and kept me up to date at every step of the process. Highly recommend this team.
Stephen Welham
15:32 09 Sep 22
Claire made this process so easy. She walked me through every aspect and worked out of hours to give me information fast - brilliant customer service. Within a week I had my car. I'm extremely grateful!
Sonya McHardy
11:25 10 Aug 22
Experts in sourcing car finance
matt joyner
15:59 04 Aug 22
Lovely staff and excellent service! Handled my application very quickly and excellent communication! Would definitely recommend! Thank you!!
Hibest Fekadu
10:54 04 Aug 22
I spoke with Claire who was dealing with my application, she was amazing explained everything in detail and answered any questions I had, would 100% recommend this company they are fab
shannon andrews
14:47 27 Jul 22
Claire is honestly everything and more. She will be there from start to finish. The company answer your messages as quick as they can to show they have got it or let you know info is coming through.Above and beyond and all the rest to Claire and her company.But honestly. Claire is amazing and makes you feel like you are friends.
Sarah Holman
13:01 20 Jul 22
The lassie I spoke to Claire is a credit to the company and should be sitting in a big office we her feet up ! Finance sorted within 24 hours .
Couldn't have asked anymore of Chris and Claire they were both brilliant never thought I would get finance but they managed to sort me even when there was a problem with my license they were very patient.Thanks again
Stuart Taylor
08:12 28 Jun 22
very helpful and friendly. The best experience from start to finish, answered all my questions and was always quick to respond. Would definitely recommend and would definitely use again xx
Both Claire and Chris were extremely helpful and accommodating. Made what can be a stressful process a more enjoyable one for me. Would highly recommend their services when looking for a car. Thanks again :)
vanessa kidd
21:53 15 Jun 22
An amazing company, my credit history wasn't good but they managed to sort me out
andie finlayson
10:20 15 Jun 22
I got in touch with MFS and they were great from start to finish.Claire was my advisor and she couldn't have done more for me. Very helpful staff and I would definitely recommend.
Steven Cox
07:12 10 Jun 22
Chris and Claire have been fantastic from start to finish. Easy process and helped you find the right car.I would highly recommend Motor Finance Scotland
CCStuart McAllister
10:02 09 Jun 22
Cheryl Spencer
17:08 07 Jun 22
Great from start to finish, couldn't have been more helpful and couldn't recommend highly enough. Thanks again
Darren Irvine
10:31 03 Jun 22
Chris was absolutely brilliant. Kept me informed of the process from start to finish. Would 100% recommend
Sierra Delta
14:47 01 Jun 22
hi therewas having trouble getting car finance, then turned to car finance Scotland who where very helpful and persistent in getting me the car that i wanted. the staff are very helpful and if you call them with any questions they answer the phone within three rings, brilliant service.
Great service would definitely recommend.Claire was great at answering any questions we had and nothing was a bother to her.
Jane Lawrie
14:40 03 May 22
Contacted this company to see if they were able to arrange finance for myself for a car I had seen, After speaking with Claire and giving her my details. She was able to get me approved for finance but the rate was bit high after telling this to Claire, she acted fast and contacted the lender and manged to get the rate lowered a fair amount. Claire was very professional and helpful and bent over backwards worked later to make this happen. Overall very please with the service I received definitely would recommend to others
Julie Ann Agnew
13:41 29 Apr 22
Aleksandra Inkumsah
16:17 05 Apr 22
Julia Macleod
15:56 09 Mar 22
Great customer service helpful every step of the way, and the willingness to sort thing out with sms messages as well as over the phone made the process much easier to fit in around work, would recommend and use again
James Layfield
23:03 24 Feb 22
Oreo Hotdogs
16:11 23 Feb 22
I have just bought a car from Lewis at Spalding Brown of Edinburgh, he got Clare from Motor Finance Scotland to ring me to take my details for a finance application, she was extremely professional and courteous in a warm friendly way totally unintrusive , i had just agreed to buy the car that morning, clare rang me about 11;30 and got a positive quick decision by mid afternoon, everything was done via internet, txt, and phone and the rate she got me was amazingly low.I explained i needed to collect the car quickly as work commitments meant i would have to leave it for a further two weeks otherwise, she leased with the finance company whom paid Spalding Brown the next morning and i picked it up in the afternoon.i can't recommend Motor Finance Scotland highly enough, next time i change my car i will be straight on the phone to them.
Justin Wray_Brayshaw
16:04 07 Feb 22
Motor finance Scotland went above and beyond to find the right finance deal . All ways kept upto date with what was going on via txt/call . Claire thanks for all your help and I'll be back soon .
David Lennon
14:34 27 Jan 22
Kazli Moir
09:58 27 Jan 22
Excellent service and very competitive rates. Would highly recommend.
John Falconer
14:31 20 Jan 22
Would highly recommmend Claire was amazing and support from start to finish and would absolutely use again .
emma campbell
04:00 20 Jan 22
I had such a good experience! They are very professional and friendly and kept me updated at all times! I would definitely recommend them!
Humza Arshad MBE
12:24 19 Jan 22
Recently used Motor Finance Scotland to find my next car.Claire was great to deal with and helped me find my next car that is perfect for me and my family.Service was great and very professional and kept me informed all teh way through the process.Would recommend to any one and will be using in the future for all my car purchases.
Scott Coggill
11:45 05 Nov 21
Excellent from start to finish, I received my first call 10 mins after I put in my online enquiry and had finance quotes approved the same day! Claire was excellent from start to finish, very knowledgeable and helpful and was able to walk me through the process making it very easy.I managed to get a great finance deal on my new car and the whole process of enquiry to the lender paying out took 24 hours! Will be back again when it is time for a replacement!
Grant Douglas
18:13 27 Oct 21
Excellent service from Claire, helped me though the entire process and was always able to go above and beyond. Would defiantly recommend to anyone!
Anton Courtney-May
09:07 25 Oct 21
I highly recommend their service to anyone looking for a new car.
Lynsay Anderson
12:05 23 Sep 21
Motor finance scotland were incredible from start to finish. I cannot fault their customer service. Very helpful and equally friendly.Claire walked me through the entire process which made it simple and straightforward.I highly recommend their service to anyone looking for a new car.
Celticbhoy 1888
14:15 03 Sep 21
Motor Finance Scotland could not have been more helpful & dedicated to helping me find my next car, I'd like to thank everyone involved but Claire most of all. I would thoroughly recommend their services to anyone.
Colin Hamilton
09:47 29 Aug 21
We compare the best deals from over 20 trusted partners